Ben Kubesh won the award for most improved rating for the Summer Season with a 198 point increase!
2010 RTTC Hardbat Champion: Tuan Truong
Tournament Pictures can be seen here.
Players were placed in 5 round robin groups by random draw. The first three places in these groups were seeded into Division one to compete for Hardbat Champion. The lowest 2 places in each group moved to Division two.
Division One: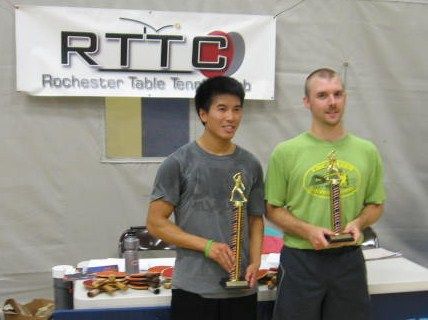 1st: Tuan Truong
2nd: Dave Judd
Division Two:

1st: Brandon Lam
2nd: Keith Bodensteiner
Division One Elimination Round:
| | | | | |
| --- | --- | --- | --- | --- |
| Chi Lam |   |   |   |   |
|   | Chi Lam |   |   |   |
| Bye |   |   |   |   |
|   |   | Dave Judd |   |   |
| Sam Prum |   |   |   |   |
|   | Dave Judd |   |   |   |
| Dave Judd |   |   |   |   |
|   |   |   | Dave Judd |   |
| Chris Lam |   |   |   |   |
|   | Chris Lam |   |   |   |
| Norm Hopkins |   |   |   |   |
|   |   | Quang Bui |   |   |
| Long Jin |   |   |   |   |
|   | Quang Bui |   |   |   |
| Quang Bui |   |   |   |   |
|   |   |   |   | Tuan Truong |
| Ben Kubesh |   |   |   |   |
|   | Ben Kubesh |   |   |   |
| Hoang Tran |   |   |   |   |
|   |   | Tuan Truong |   |   |
| Tuan Truong |   |   |   |   |
|   | Tuan Truong |   |   |   |
| Michael Tran |   |   |   |   |
|   |   |   | Tuan Truong |   |
| Brenda Nguyen |   |   |   |   |
|   | Brenda Nguyen |   |   |   |
| Don Heuton |   |   |   |   |
|   |   | Kiswanto Thayib |   |   |
| Stan Wilkinson |   |   |   |   |
|   | Kiswanto Thayib |   |   |   |
| Kiswanto Thayib |   |   |   |   |
Division Two Elimination Round:
| | | | |
| --- | --- | --- | --- |
| Sahil Chhugani |   |   |   |
|   | Keith Bodensteiner |   |   |
| Keith Bodensteiner |   |   |   |
|   |   | Keith Bodensteiner |   |
| Alex Fu |   |   |   |
|   | Terry Obrien |   |   |
| Terry Obrien |   |   |   |
|   |   |   | Brandon Lam |
| Sachchit Murali |   |   |   |
|   | Sachchit Murali |   |   |
| Justin Wynn |   |   |   |
|   |   | Brandon Lam |   |
| Rick Lee |   |   |   |
|   | Brandon Lam |   |   |
| Brandon Lam |   |   |   |