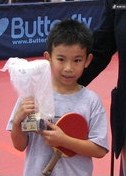 Report from Chi Lam, Grand Rapids Michigan, June 30, 2010- Also see Final elimination Bracket Here. Search for all Results here.
See Michaels Event Pictures Here
USATT Magazine article on US Open has a picture and notes on Michael.
See Videos of Michaels Finals, Don't miss exciting 5th game.
U-1350  1st Place:  Michael Tran
U-1200  2nd Place: Michael Tran
U-1200  Semi-finalist:  Brandon Lam
1st day of US Open here for our RTTC players. Michael Tran, Chris Lam, and Brandon Lam. What a huge event, over 700 players, I think just about 100 tables, all sort of Table Tennis vendors. Quite impressive. Facility is nice, hotel is good. So far seems like a well attended and well run tournament. Lot of international players as well.

All three kids played at the U-1350 today. Brandon started out rusty, looked like needed more relax and warm-up. Lost the 1st two matches in his round-robin, and finally started to get going, and won a match in his round-robin. Only 1 person would advance. Brandon done for the day.

Chris won his round-robin, into round of 16 (singles elimination). Won the next one, into round of 8 (quarter-final). Played a 9-year old boy from California. Close game, Chris lost 1-3. Done for that event.

Chris had one more event later in the day, Boys Cadet (15 and under years old). Unfortunately they were doing only singles-elimination. Chris played a player from Canada, pretty strong, but had a close match. Chris lost. Done for the day.

Then we could all turn our focus to Michael. Michael cruised through his round-robin, advancing into round of 16. Cruised through the stages into FINAL, yes! Onto the nice red-rubber-floor court. What an amazing match!! Michael started out a little tight, wasn't playing like he would, probably due to all the attention around the court on the table. People are video-taping the match in many corners. Many top players / coaches were watching as well. Being down 0-2, Hoang (dad and coach) figured out the strategy to help turn things around, and it worked. Michael easily took game 3 and game 4, into the final game 5. Michael continued his momentum, up 5-3, change side. The other side called time-out. Then the opponent went 3 point in a way to go back up 6-5. Michael hung tough, then went 5 amazing points in a row (those were really good points, long rally), up 10-6, at match point. The other side trying to come back, 3 point in a row again, now 10-9. We now called a critical time-out, to try to win the next point. Michael went back, served, and the other guy missed. Michael WON!!! Our very first US Open Champion!!!!!!!!!!!!!!!!! Congrats Michael! That was one incredible match!! Congrats from many people around that were watching. What a wonderful day for the little 7-yr old. Go Michael!